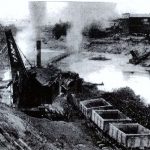 Seattle's earliest white settlers saw immediately that it would be possible to connect its freshwater lakes to the saltwater Puget Sound by means of a canal.  At a Fourth of July picnic in 1854, Thomas Mercer proposed the name of Lake Union because that body of water was in the middle between Lake Washington to the east and Puget Sound to the west.
Seattle settlers of the 1850s Thomas Mercer and David Denny took land claims at the south end of Lake Union near today's Seattle Center.  Two single men, John Ross and William Strickler, searched out the land and in 1853-1854 they took claims at the northwest corner of Lake Union, which today is the Fremont neighborhood.  It was not until 1916 that a ship canal was constructed which was large enough for industrial use.
From those earliest times Seattle settlers thought to build a ship canal but little did they know that it would take more than sixty years to come to fruition.  Finally in 1910-1917 all of the needed legislation, financing and public support came together to create the Lake Washington Ship Canal. 
The Seattle settlers' plans were put on hold during the Puget Sound Indian War of 1856, but in following decades John Ross's name was given to the creek.  Beginning in the 1880s attempts were made to enlarge the channel of Ross Creek to create a stronger flow which would flush logs out toward sawmills.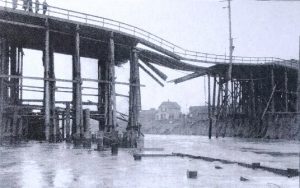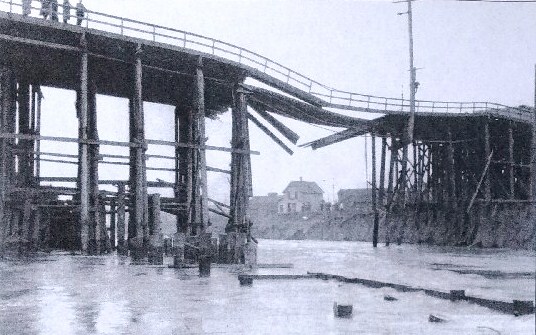 At the future site of Fremont the water level would rise and fall with the tide into Salmon Bay along the shore of today's Ballard.  John Ross, William Strickler and other men who had filed land claims along the creek began to clear their land.  They wanted to derive income by felling trees and floating them in the stream, out toward Puget Sound and then down to Yesler's Mill at the present site of Pioneer Square in downtown Seattle.
With the widening of Ross Creek came bridges to cross it, and by the 1880s there was a wooden trestle at the present site of the Fremont Bridge.  The crossing had to be rebuilt several times due to washouts such as the dam break in March 1914 during ship canal construction.
Today's Fremont Bridge was built at the completion of the ship canal in 1916, with the ship canal and bridge celebration held on July 4, 1917.  Over the history of the Fremont neighborhood its bridge symbolism and its key role as a transportation hub caused the neighborhood to be called "central" to Seattle, and sometimes Center of the Universe!
Information resources developed during the ship canal centennial year of 2016-2017 are listed on Making the Cut 100.  Another resource is the Special Collections/Ship Canal photos on-line at the Seattle Public Library.