October 25, 1985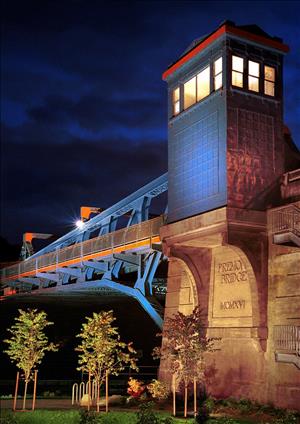 Dedication of the Blue and Orange Paint Job on the Fremont Bridge
After over a year of voting and meetings and compromise, the painting of the Fremont Bridge was completed, with blue as its predominant color and orange accents.
Read more »
The Fremont Bridge was painted a dull green for decades.  In 1972, the Fremont Improvement Committee picked a new color, Fremont Orange.  The residents agreed and the City Engineering Department painted it bright orange.  However, over time it faded to a color described as pink, dull coral, or "between dead salmon and stale fruit."
In 1984, the Engineering Department was concerned about re-painting it orange.  They offered options of other colors and asked people at the Fremont Street Fair to vote.  Fremont mayor Armen Stepanian campaigned for orange as a write-in candidate, but Canal Blue won, and the painting was scheduled for 1985.
The Fremont neighborhood was still unsettled about the color.  They didn't like that the color orange was not on the ballot the year before, and there were questions about whether chemical properties of the orange paint made it unsuitable for use on a bridge.  Beginning in May 1985, Clayton Park, editor of the local newspaper, The Forum, wrote about the issues of orange vs. blue and conducted a poll of the paper's readers.  The following months saw letter writing campaigns and meetings with Fremont residents, merchants, and the Engineering Department.  On August 8, a compromise was reached, and the painting began.  The predominant color would be blue with structural features highlighted in orange.  Fremont Arts Council chairwoman Irene Ingalls created the paint design along with Tom Gorton and other neighborhood artists.
On October 25, 1985, Fremont Neighborhood Council president Liz White, Fremont Chamber of Commerce president Jim Daly, Bridge Maintenance Manager Bill Couch, and over 50 local residents met at the newly painted bridge to dedicate "the paint of compromise."